THE MATHIAS CONNECTION
An Unfolding Story
The Mathias Connection is the title for an intended series of drawings and paintings inspired by the story of Mathias Hess (1899 - 1967), a German artist who had been a prisoner of war in East Sussex. After his release, he lodged with my grandparents Arthur and Phoebe Crew at Glenthorne, their house in Hollington, Hastings, until his repatriation in 1947.
Arthur had been severely wounded in the First World War, which affected his health for the rest of his life yet he was able to reach out to someone from the recently opposing side, who had been caught up in the later conflict of World War Two.
As a child, I was fascinated by Mathias's Sussex themed paintings that hung on the walls of Glenthorne. One, a large oil painting of Hastings Castle, had been sent from Karlsruhe to Arthur and Phoebe in 1950 as a 'thank you' for taking him in. A just discernible address on the back has enabled me, with the help of the Stadtarchiv in Karlsruhe, to find out more about his life and work through newspaper articles - including exhibition reviews - and the many drawings that have recently been catalogued.
My aim is to tell something of his story, especially in relation to my family and his time in Sussex, which for me symbolises the importance of shared personal and cultural connections.
February 2021.
Waiting for Mathias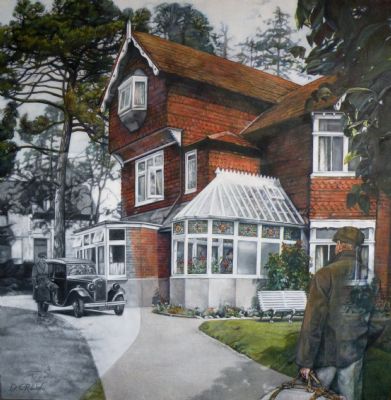 Detail from The Magic Lantern